Techniques
So, how do you henna your hair?
Next Step: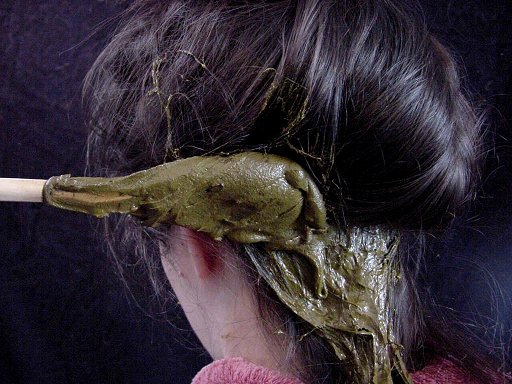 I put towels on the chair, over deb's shoulders and around her neck. I got a big bowl of warm water and washcloth to wipe up henna splats from her neck and ears. I brought out a big bowl of henna I'd mixed the night before, disposable plastic gloves and a wooden spoon. If I didn't glove up, my hands would be bright orange by the time I was done! I used a wooden spoon to muck in the henna, though carrot bags do a better job.

I pulled most of her hair up to the top of her head so I could get henna down to the roots at the back. I used a wooden spoon, but if you put the henna in carrot bags (pastry piping bags) you can get it into the hair more precisely, and with less glopping.