Madame Patti, a famous Victorian opera soprano, beauty, socialite and international star, hennaed her dark hair through the late 1800's. She was credited with launching henna into the European fashion mainstream, as fashionable women admired her thick auburn hair, and emulated her. In 1900, she was the second most well known woman in England, after Queen Victoria, and was the superstar diva of her day.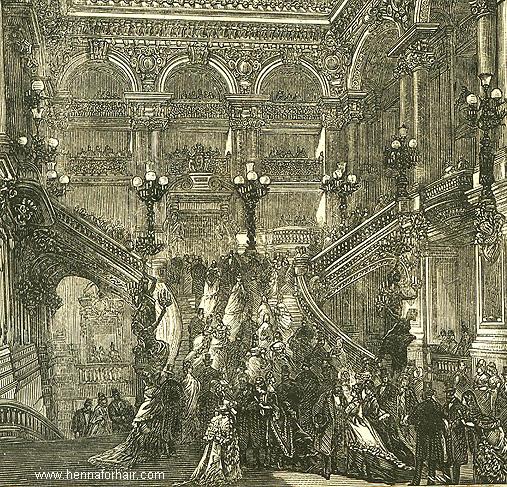 The Paris Opera in the late 1800's when Madame Patti reigned and hennaed her hair.


Madame Patti was born in 1843, in Spain. She began singing on stage when she was seven, and was the undisputed diva soprano of the world for fifty years! Her voice stayed strong and beautiful because she never forced a tone. At the peak of her fame, she would have been going gray, and hennaed to keep her hair fashionably youthful, thick, long, dark and reddish.

Men threatened to kill themselves if Madame Patti would not take them as a lover. Women longed to be like her ... wealthy, beautiful, famous, exotic, romantic and adored, with a mane of hennaed hair. Women could purchase the henna, if not the other characteristics.

During the late Victorian era, women grew their hair very long, and showed it off in luxurious chignons, rolls, tosades and puffs, to a neck-challenging height. Many used henna to keep their hair sleek and thick, and to cover the gray as needed.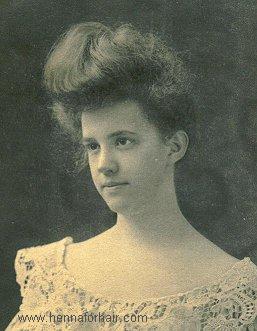 Fashionable young woman of the late Victorian era


In 1900, the beauty editor for "Queen", London's newspaper for ladies, was surprised at the new fashion for white or pale hair, commenting that gray hair hadn't been seen on fashionable women in the previous decades. Women had auburn or bright blonde hair, (henna and cassia obovata with rhubarb root, often marketed as "blonde henna"). The editor also commented that though hairdressers in Paris and New York claimed they could bleach hair white, it was not done in London, and the process could not be done safely.

An English puppeteer caricatured the great Madame Patti in her later years, as an aging diva with bright red henna-over-gray hair, accompanied by a puppet poodle that would leap into her lap.

Learn more about Madame Patti!
References:

Scrapbooks and fragments of books and magazines from the 19th century, exact sources unknown.


Chemist and Druggist, 1926, vol. 105, p 753

Corson, Richard
"Fashions in Hair, the first Five Thousand Years"
Peter Owen, London, 1965