Henna has been traditionally used as a

safe and effective

effective cure for head lice, dandruff and ringworm,

remedy,

but may not appropriate for everyone.

Henna has been demonstrated to be an effective analgesic for hand/foot syndrome from chemotherapy,

and appears to be a safe and effective remedy, but is currently

being clinically tested, so verification and FDA approval have not yet been granted.

Henna has been traditionally used to treat fingernail and toenail fungus, and appears to be a safe and effective remedy.

Many people find that henna can be therapeutic when used on palms and soles before dancing and drumming.

Though henna tea has been traditionally used as a therapeutic for stomach upset, it is NOT safe and effective to do so. Henna leaves are not sterilized and may contain contaminants that will make your problem worse.
If you wish to use henna as a therapeutic, please do so ONLY with your physicians knowledge and consent,
and ONLY use henna that has been tested and certified by an independent laboratory for purity, pesticide content, lead content, and lawsone content.
You can purchase pure certified henna suitable for therapeutic use from mehandi.com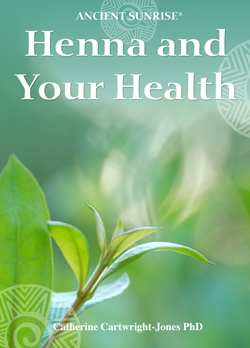 Ancient SunriseŽ Chapter 13 Henna and Your Health
This chapter discusses the safety and wellness aspects of dyeing your hair with henna: why it is recommended for pregnant and nursing women, how it can enhance your wellness, and who should not dye their hair with henna.
Links to specific topics in this chapter
Henna, Pregnancy, Nursing, and Doctor's Orders
Henna and G6PD Deficiency


Health Benefits of Henna
Henna and Hair Care
Henna and Head Lice
Henna will kill head lice! Henna combined with Fenugreek will kill head lice in resistant infestations. Henna combined with Artemisia will completely eradicate head lice, even in severe infestations.
M. El-Basheir and Mahmoud A. H. Fouad (2002) A Preliminary Pilot survey on Head Lice, Pediculosis in Sharkia Governate and Treatment of Lice with Natural Plant Extracts. Journal of the Egyptian Society of Parasitology, Vol 32, No 3, December 2002, Zeinab
Henna will cure ringworm!


Ringworm is a fungal infestation and henna is anti-fungal.
Bosoglu A., Birdane F., and Solmaz H., (1998) "The Effect of Henna Paste in Ringworm in Calves

Department of Internal Medicine, Faculty of Veterinary Medicine, Selcuk University, Konya, Turkiye

Indian Veterinary Journal 75, January
Ringworm at Wikipedia: http://en.wikipedia.org/wiki/Ringworm
Henna can cure dandruff!


Dandruff is the result of a fungal infestation, psoriasis, dermatitis, or flaking skin. Henna is anti-fungal, can be effective against psoriasis, and can strengthen skin. Many people who have itching, flaking scalps after dying with chemical dyes are developing an allergy to para-phenylenediamine and other chemicals. Henna can be used to dye hair instead of chemicals, and can restore healthy hair and skin.
Wikipedia on Dandruff: http://en.wikipedia.org/wiki/Dandruff
Henna will leave your hair thick, silky and healthy.


Use use body art quality henna from mehandi.com and follow the instructions we send with the package. Body art quality henna is pure lawsonia inermis, with high natural dye content and no adulterants. Body art quality henna does not "coat" the hair or make it brittle. Only compound henna will damage your hair. For more information, read "Henna for Hair" http://www.mehandi.com/shop/hennahairbook/index.html
Prepare your henna and herbs:
* Prepare henna to eradicate headlice, dandruff, or ringworm the way you normally prepare henna.
* For difficult infestations, add 25g of artemisia or fenugreek per 100g of henna.
* Use body art quality henna (high dye content, with no impurities or adulterants
Henna will dye your hair.


The color will be different on blondes, brunettes, and black hair. Below are before and after pictures of hair dyed with body art quality henna from mehandi.com. The color is permanent (though your hair will grow out). If you use henna to cure head lice, ringworm, or dandruff, your hair color will change, and your hair will also be sleek, heavy, shiny and silky.
Though you can generally assume that it is safe to henna a healthy female over the age of 12, do not henna a child or infant's hair without first consulting your physician to determine the child has G6PD deficiency.
Do not use henna on any juvenile who has homozygous G6PD deficiency. Glucose-6-phosphate dehydrogenase deficiency (G6PD deficiency) this is an X-linked recessive hereditary disease featuring abnormally low levels of the G6PD enzyme, which plays an important role in red blood cell function. Individuals with the disease may exhibit nonimmune hemolytic anemia in response to a number of causes, and one of these is causes is exposure to henna. Males are more likely to be harmed than females. G6PD deficiency can be determined by a simple blood test administered by your physician.
Wikipedia article on G6PD deficiency: http://en.wikipedia.org/wiki/Glucose-6-phosphate_dehydrogenase_deficiency