Emblica Officinalis
Amla Powder
Catherine Cartwright-Jones
Henna for Hair c 2004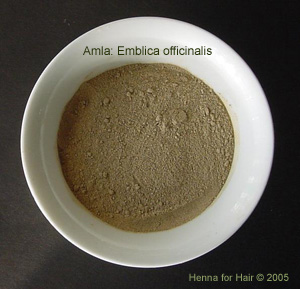 Click HERE to learn more!
If you have a box of brown powder marked "Amla" (also called "Amalaki" and "Indian Gooseberry"), you have a box of the powdered dried fruit (perhaps with some twigs, leaves and bark mixed in) of the

Emblica Officinalis

tree.



Emblica Officinalis

powder is tan and has an acidic astringent smell like a combination of raw cranberries and oak tree bark. If you make a simple paste from the powder, it does not stain the hands.

The paste enhances waves and curl, and leaves a clean, healthy scalp. When you scrub your face with the paste, your skin feels firm and tight.



Use for Skin:




Mix amla powder with hot water to make a paste that is about the consistency of yogurt. Let that sit for fifteen minutes. Use the paste as an exfoliating, astringent scrub for your face.
Use for Hair:
If you add amla to a henna and indigo mix, you will get a slightly cooler brown dye color. If you add amla to henna itself, you won't see any color change. You can mix amla with henna as the acid for dye release.
Online references:
http://www.hort.purdue.edu/newcrop/parmar/07.html
http://www.ncbi.nlm.nih.gov/
http://www.wrc.net/phyto/Amalaki.html